In early October 2020, the people of Nigeria took to the streets across the country and demanded an end to the brutality by the police unit Special Anti-Robbery Squad (SARS), which has committed atrocities against innocent civilians and routine harassment. This demonstration lasted for two weeks.
In the wake of last year's "End SARS" uprising against police corruption, a new generation of activists have boldly moved Nigeria into a more optimistic and inclusive future, but the question still stands: what has changed since the protests?
Students For Liberty's Nigeria-based Director of Student Programs, Olumayowa Okediran, like hundreds of others, has been kidnapped and threatened by SARS several times.
"I have been kidnapped and had guns pointed in my face more than five times in my life. Every time, the person holding the gun cocked it and said something like "I'll shoot you" or "I'll waste you." I have had to beg for my life, I have had to pay for it to be spared. I am tired. I cannot continue to live like that. It looks like the 2020 nationwide protests did nothing about the conduct of the Nigerian police."
The standard victim of police brutality in Nigeria is young, male, and usually alone — driving or walking. Police officials are known to profile their victims as criminals on the spot and charge them with offenses they can't provide evidence for.
Okediran said that on May 30, 2021, he was accosted by the two policemen on duty at Ajah roundabout while he was traveling with his family members. Their papers were in order but the policemen insisted on taking him to the station to take his statement as a criminal suspect. He refused to write an incriminating statement against himself.
"They said my NGO was one of the active participants of the #EndSARS protests that led to the razing of their police station. Usman Umaru (the policeman) said he would shoot me right there and nothing would happen, despite seeing my family members in my car. It was then I became very scared for my life," — Okediran.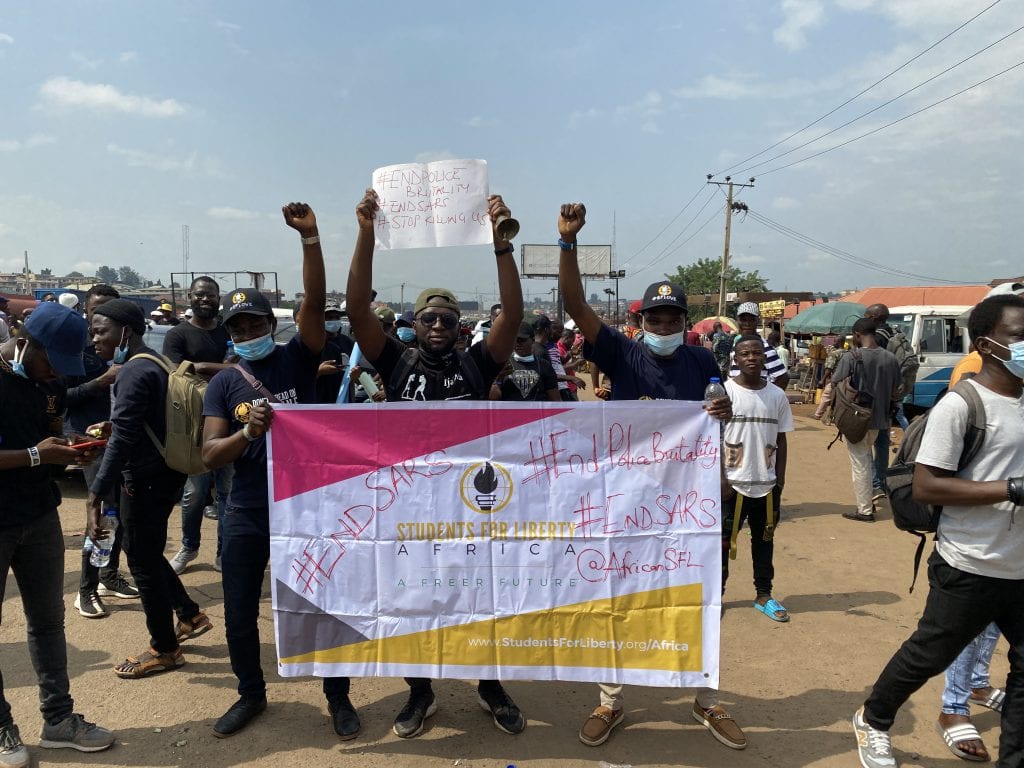 Activists from Students For Liberty Nigeria have indeed expressed a vocal position in supporting the #EndSARS protest movement. SFL Nigeria activists were in the streets of Lagos when the Lagos state government had Armed Forces shoot the peaceful demonstrators, and imposed a curfew to block protesters.
Olumayowa Okediran is out of the police station and in a safer place, but these recent events remind us that the struggle is far from over. There are still many more flashpoints for Nigerians to make the country habitable for all its people. Moving forward, members of Students For Liberty Nigeria intend to actively engage in future protests and are committed to ending the police brutality impacting millions of lives.
Help us spread the word about what is happening in Nigeria by sharing this message with your family and friends in support of the #EndSARS movement.