Dylan Dean, a Montana State University student, activist, and Students For Liberty (SFL) Regional Coordinator, has already contributed immensely to the cause of liberty despite his young age. Dylan's testimony favoring free speech on campus in the State Senate and House Judiciary Committees in Montana helped pass two bills that will guarantee protections statewide.
Since middle school, Dylan had always felt it was his personal duty to protect individual rights and liberties from the government. "I absolutely have a personal stake in a freer world," he said, "the big thing that got me into politics was school choice—I dropped out of public school because it didn't fit me well. I don't want my kids to go through the same experiences."
Having realized the true nature of the state first-hand, Dylan decided to do what it takes to challenge the status quo and advance pro-liberty solutions to the problems he identified. In search of a community that would support his endeavors, he joined SFL and started off by making small steps to accomplish his big goals.
To make a positive impact in the community and help preserve the natural environment, Dylan and his fellow students at Montana State University (MSU) organized a trash cleanup in Yellowstone National Park. It was vital for him to show other students that voluntaryism and free-market environmentalism are at the heart of the protection of nature rather than the government.
In late 2021, Dylan and Students For Liberty led a coalition of students groups across campus to push back against his universities COVID restrictions. He collected 1,100 signatures on a petition from students on his campus, resulting in one of the largest, if not the largest, petition gathering demonstrations in the history of Montana State University. He received backlash from faculty and administration: several staff members sent Dylan offensive emails condemning his actions. In addition to that, while attempting to deliver the petition to the Office of Registrar and Student Accounts, he was barred from entering by campus security.
This did not stop Dylan from trying to make a change. When he tried to talk about free speech at the University of Montana, an administrator told him to set up his table in the "campus free-speech zone" – a space behind a building in an area not frequently attended by any students.
"It was a recurring thing that I was kicked off campus," said Dylan, "and it was important to me that I be allowed to speak." This situation made him realize the urgent need to protect and ensure unfettered free speech on university and college campuses.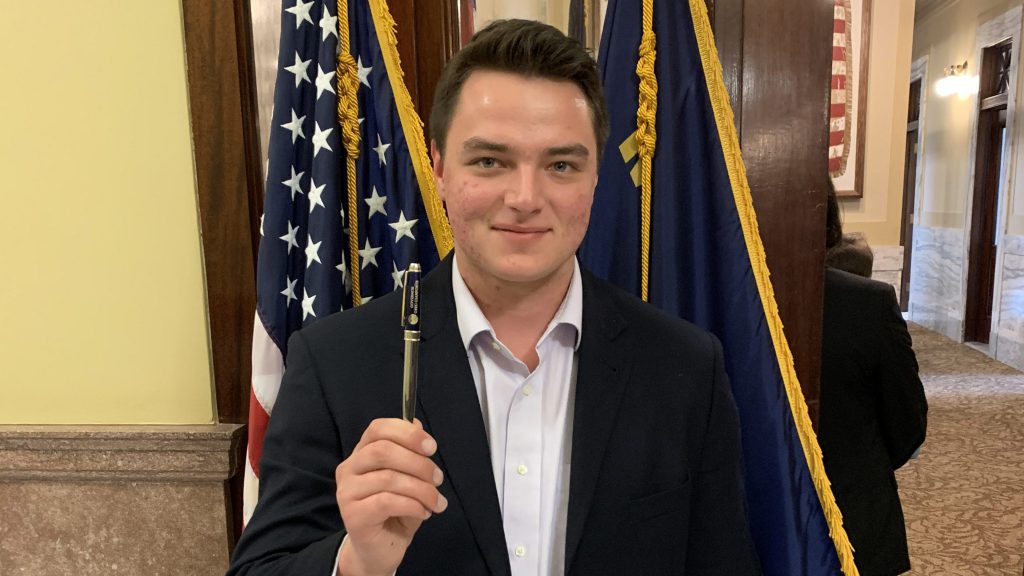 Thus, Dylan decided to take this issue to another level: he testified in front of the State Senate and House Judiciary Committees in Montana for bills focused on protecting free speech. The first bill eliminated free speech zones and prevented public colleges and universities from restricting unsanctioned speech to a designated campus area. The second bill protected the rights of clubs to maintain leadership that upholds the values of that club and prohibited the expulsion of students for expressing their opinion. The measures will protect the First Amendment rights of students on campuses and establish open space for debate.
Dylan attributes his success to a strong SFL network that gave him the strength to fight for freedom. "SFL has sharpened me intellectually," he said, "But the most significant impact is the connections I've gotten. A student defenders group was born out of me running into Foundation for Individual Rights in Education (FIRE) at SFL's Freer Future Fest. Thanks to that meeting, we now have the infrastructure to defend students who've been accused of violating the code of conduct at MSU."
Dylan believes that the connections and resources SFL provides to its students develop leaders who go on to do amazing things. "I think about the impact that the people I've worked with and I have had on liberty in Montana, and I know that as long as I keep going, we'll keep winning and make this state freer. With SFL, not just the state but the world," he concluded.
Help us create more great stories like this one!