Benaya Cherlow is a local coordinator in Tel Aviv and a third-year student in the honor track of decision-making and strategy and the honor track in law at Reichman University. He also works for WZB in Berlin, and is a chapter leader of the Adam Smith's Society. Thanks to that, Benaya helped extend the partnership between Students For Liberty and the Adam Smith's Society in Israel, which resulted in a number of successful events and new members joining the local SFL team.
Benaya also has an active academic interest in geopolitics and trade, and for the past few months, he has been working on an article called "Xi Jinping's decision-making – and China's siege mentality". In the article, he dealt with how it is possible to understand the investment policy of Xi Jinping in the Belt and Road project, how Xi Jinping makes decisions and how it is possible to influence Xi Jinping's decision-making.
The article got published in International Politics magazine at the DGAP Foreign Relations Research Institute in Berlin, Germany. In December 2022, Benaya lectured on a panel at a conference in Berlin that dealt with relations between China and Israel. In his lecture, he explained China's siege mentality and the way to influence the framing of China's decision-making: with the understanding that while you cannot compete with China, you can influence the way it makes decisions.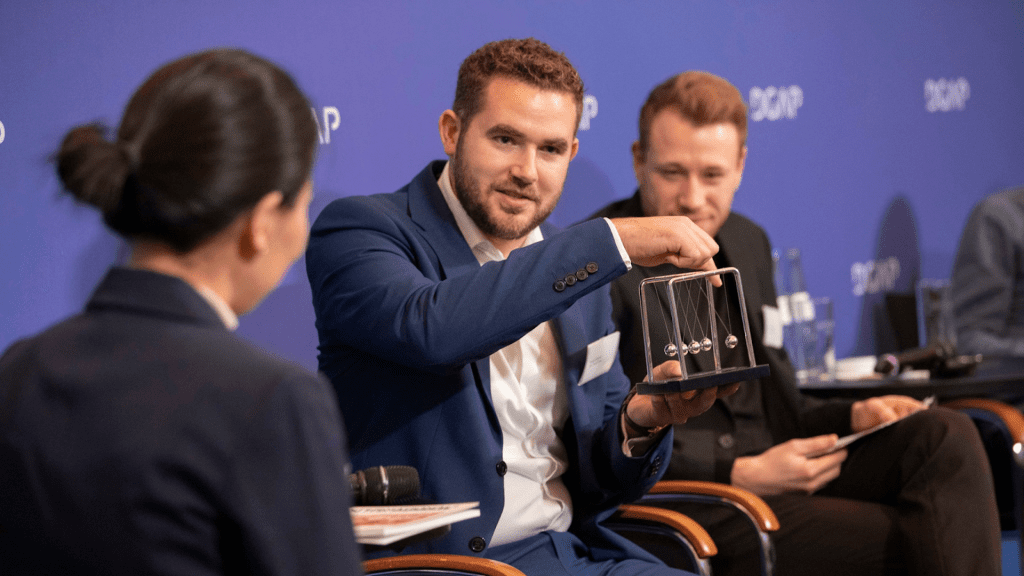 The article and the lecture are part of the Slyke Temple fellowship program at the Future Forum between Israel and Germany, in which Benaya has been a fellow for the past two years, working on several partnership projects between Israel and Germany. The Fellowship allowed Benaya to travel around Israel, as well as to publish his paper and participate in the conference in Germany.
Benaya intends to continue his research further in the coming years, as he proceeds with his plans to obtain a doctoral degree. "In recent decades there has been a decrease in researchers in the humanities and social sciences. Many brilliant people go to the high-tech and data science fields instead," Benaya says. "Students For Liberty inspired me to engage in the fields of economics and decision-making from a liberal perspective, to explore and analyze deep ideas that have changed, and will change, human society."
To read more stories about our students and alumni, be sure to check out our cluster page by clicking on the button below.
This piece solely expresses the opinion of the author and not necessarily the organization as a whole. Students For Liberty is committed to facilitating a broad dialogue for liberty, representing a variety of opinions.