The return of European Students For Liberty's flagship event and largest annual pro-liberty gathering in Europe, LibertyCon, is fast approaching!
Held in Prague, Czechia, on April 23-24, 2022, this event will feature a multitude of prominent and fascinating speakers representing a variety of fields of expertise.
Here is just a small selection of the fantastic speakers you don't want to miss at LibertyCon Europe this year:
1. Leszek Balcerowicz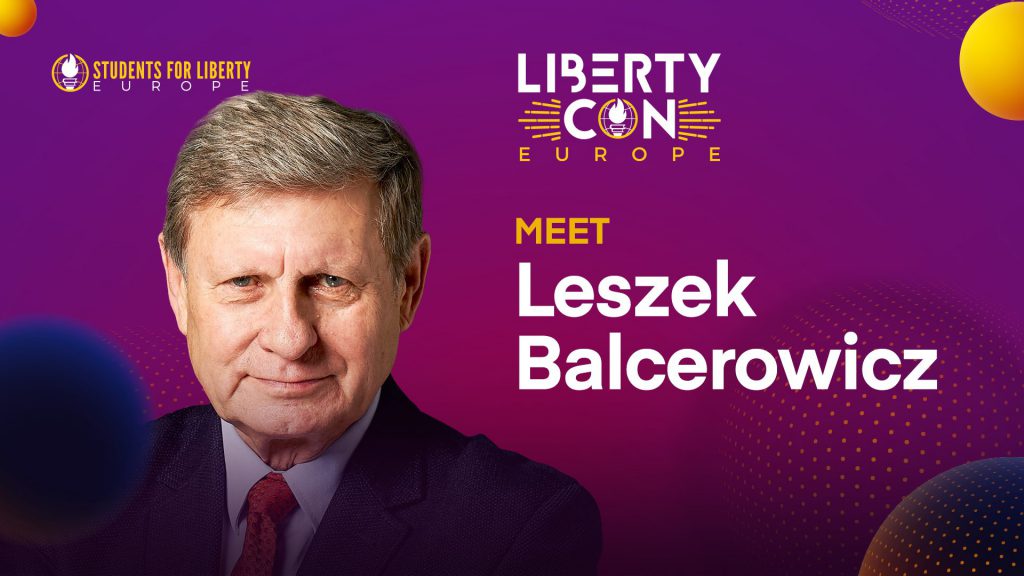 Leszek Balcerowicz is a Polish economist, political figure, and professor at the Warsaw School of Economics (WSE). He served as deputy prime minister and minister of finance in Poland's first non-communist government since World War II. He is also the former president of the National Bank of Poland (NBP).
Balcerowicz led a series of free-market economic reforms that resulted in Poland becoming one of Europe's fastest growing economies.
In the last keynote session of the conference day, Leszek Balcerowicz will discuss the journey from communism to capitalism and the doctrine and practice of Marxism.
2. Stephan Livera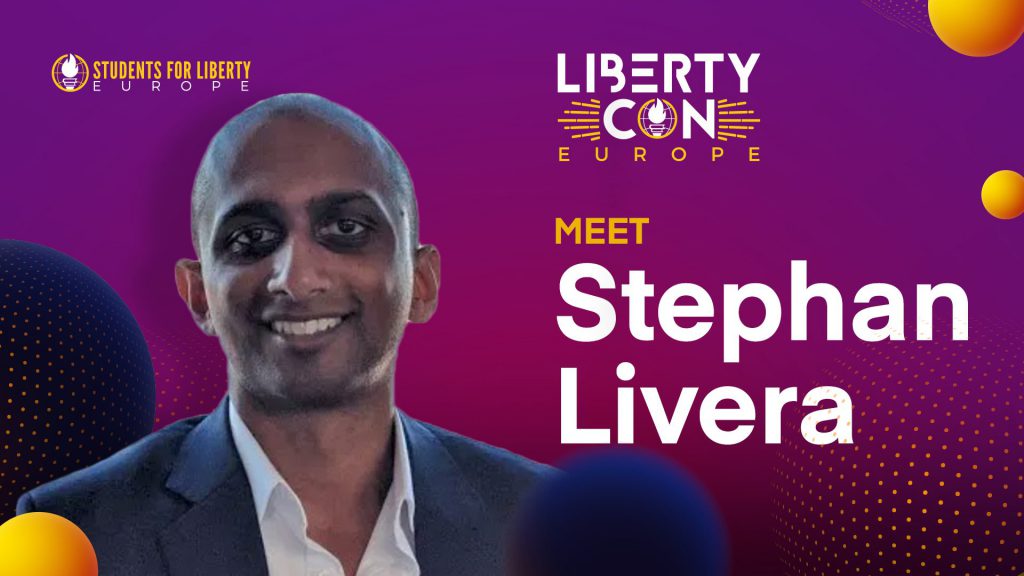 Stephan Livera is a prominent figure in the Bitcoin industry. He is a Bitcoin podcaster, managing director of Swan Bitcoin International, and a partner with Bitcoiner Ventures. With over four million downloads, his Stephan Livera Podcast is among the world's most significant Bitcoin podcasts.
His writing has featured in a number of outlets including, among others, Mises Wire for the Mises Institute, Yahoo Finance Australia, Spectator Australia, Saylor Academy, Ticker News, and Bitcoin Magazine.
Stephan Livera will participate in a keynote panel discussion with Josef Tetek, titled Bitcoin Revolution. This will be moderated by Zach Harvey of Lamassu Industries AG.
3. David D. Friedman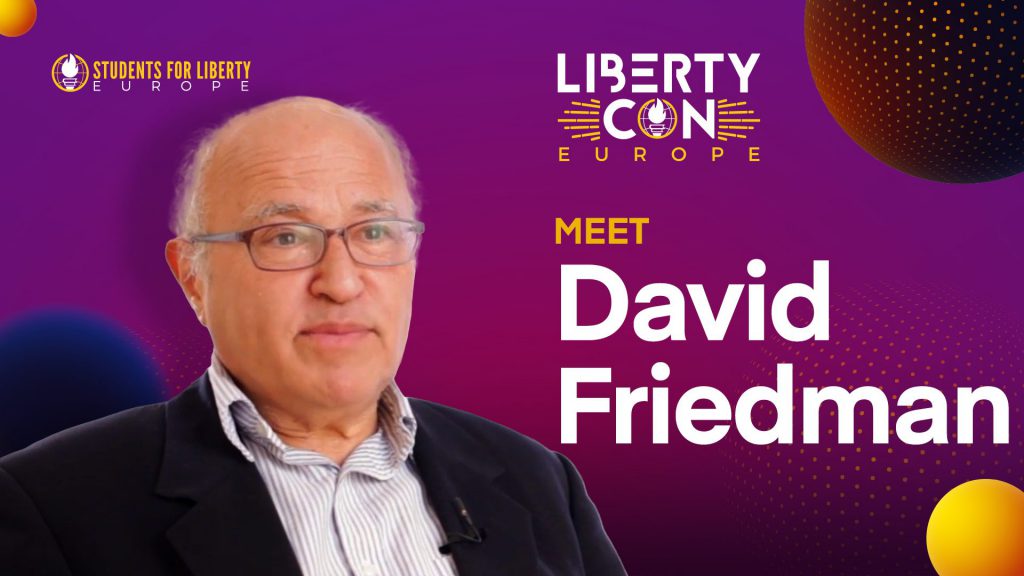 David D. Friedman is an academic economist with a doctorate in physics, who also taught in a law school for 23 years. An accomplished author, he wrote The Machinery of Freedom: Guide to a Radical Capitalism, published in 1973. Herein, he theorized how a society with property rights and without government might function, offering a consequentialist defense of libertarianism.
Most recently, Friedman published Legal Systems Very Different from Ours, covering various legal systems throughout different time periods in a variety of societies. An avid science-fiction fan, he has also written a number of works of fiction.
On the first day of LibertyCon, held at the Cubex Centre, David D. Friedman will take part in a keynote panel discussion with Steve Davies, Head of Education at the Institute of Economic Affairs in London, moderated by Students For Liberty's CEO, Dr. Wolf von Laer.
This panel discussion will cover the prospects for liberty in the foreseeable future, taking into account recent events such as the global pandemic and the war in Ukraine, as well as what developments are likely to occur in the decade to come. Furthermore, the following day at the LibertyCon festival, held at the Radlická Kulturní Sportovna, David D. Friedman will host a 30-minute session on the theme of science fiction, fantasy, and liberty.
4. Tatsiana Khomich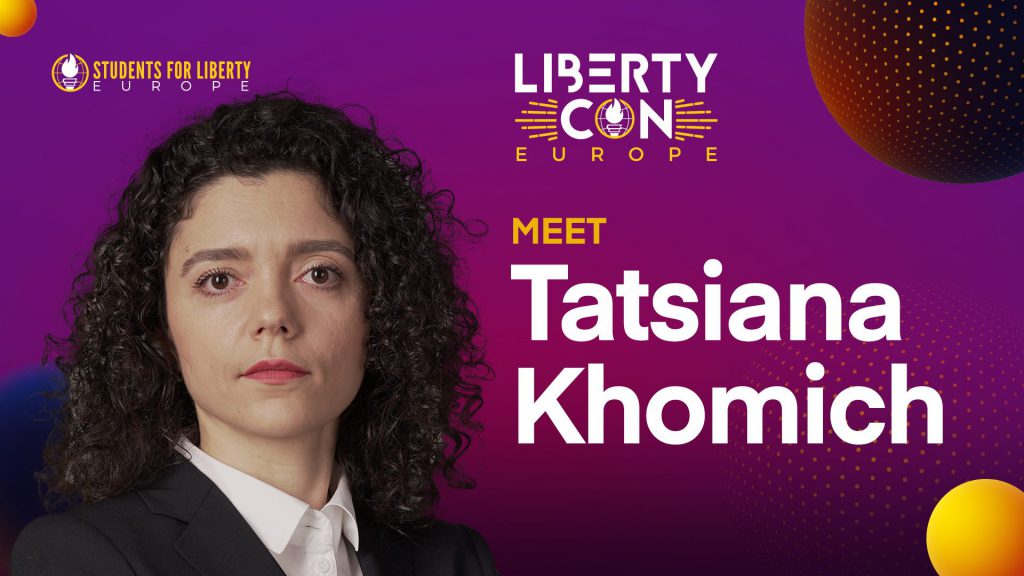 Tatsiana Khomich is a Belarusian activist and representative of the Coordination Council for Political Prisoners.
Her activism started in May 2020 when she joined the team of Viktar Babaryka as a media manager. Babaryka stood as a candidate in the 2020 Belarusian presidential election – an election widely condemned as rigged.
Tatsiana's sister, Maria Kalesnikava, is a political prisoner in Belarus. Since Maria was detained in September 2020, Tatsiana has become a voice for her sister and political prisoners in general. She has been involved in public advocacy to bring attention to the widespread human rights violations in Belarus, and politically motivated persecution in particular.
At LibertyCon, Tatsiana Khomich will join other activists from places such as Ukraine, Russia, and Georgia for a keynote panel discussion on Eastern Europe and Russia. This discussion will focus particularly on what may lie in store for the region in consideration of Putin's invasion of Ukraine.
5. Craig Biddle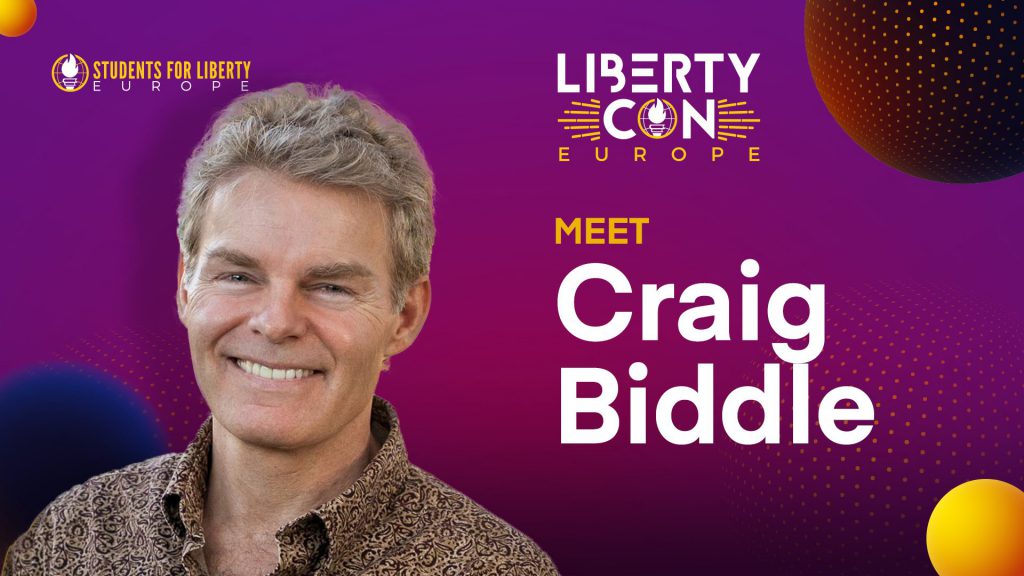 Craig Biddle is an author and lecturer who extensively covers Ayn Rand's philosophy of Objectivism. He is co-founder and director of education and programs at Objective Standard Institute, co-founder and editor in chief of The Objective Standard, and executive director of Prometheus Foundation.
Some of his most notable books include Loving Life: The Morality of Self-Interest and the Facts that Support It, and Rational Egoism: The Morality for Human Flourishing. He is also the author of the forthcoming Forbidden Facts: Moral Truths Your Parents, Preachers, and Teachers Don't Want You to Know.
At this year's LibertyCon, Craig Biddle will present a keynote session titled Ayn Rand's Philosophy for Freedom and Flourishing.
6. Dominik Stroukal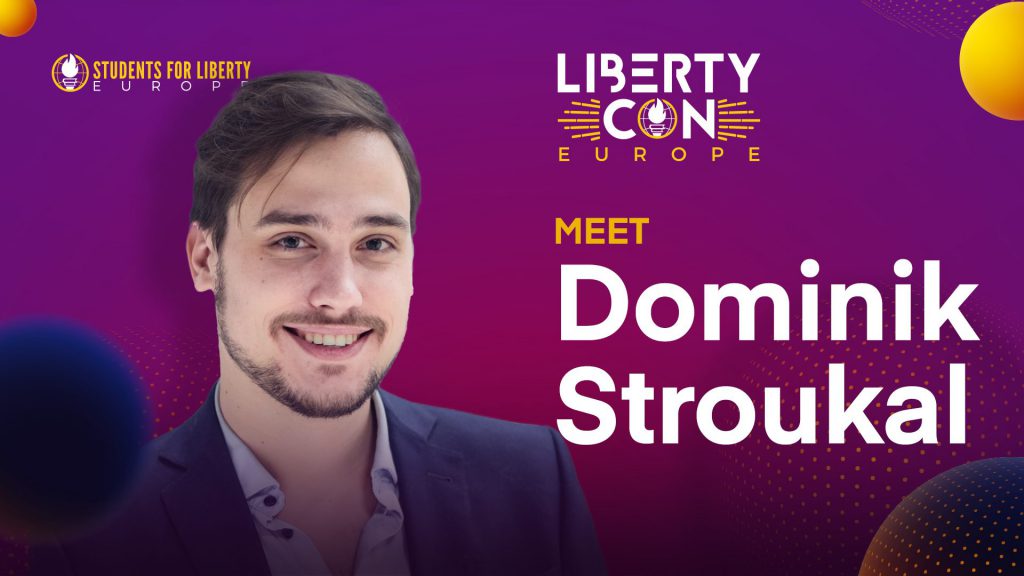 Dominik Stroukal is the chief economist of the Roger Payment Institution and the head of the Department of Economics at CEVRO Institute in Prague. The author of several books, including the first Czech book on Bitcoin, Dominik Stroukal hosts the Business Speak podcast on the Ekonom weekly, and the show Who's Paying? on MALL.TV.
He is also the editor-in-chief of Trade-off magazine, managing director of the journal New Perspectives on Political Economy, and economic advisor to SatoshiLabs. His latest book, Dark Web: Sex, Drugs and Bitcoins, was published in 2020. At LibertyCon, he will give a talk titled Central Bank Digital Currency: Not Great, Not Terrible'
To hear these speakers at LibertyCon as well as many more, be sure to click on the button below to register for LibertyCon Europe, which will be held in Prague on April 23-24, 2022.
This piece solely expresses the opinion of the author and not necessarily the organization as a whole. Students For Liberty is committed to facilitating a broad dialogue for liberty, representing a variety of opinions.