Just a few years ago, I was a volunteer with Students For Liberty. Now, I'm a member of staff and have just completed my Doctorate in Pharmacy. As I developed within the organization and was nearing graduation, I always knew deep down that I wanted to continue to work in the liberty movement.
After my graduation, I joined the team as a staffer in South Asia. As I grew in that role, I gained much-needed resources and opportunities to make a greater impact in South Asia than I had as a volunteer. I have grown so much both personally and professionally since taking on this job, and I sincerely appreciate your support for me by supporting Students For Liberty.
In my role, I get to work closely with more than 300 student leaders, assisting them as they fight for liberty, just as I did when I was a student. Now that I am on staff, I also see the flip side of that coin; there is so much planning involved in supporting the needs of each volunteer. I am incredibly grateful that we have donors like you who make it all possible.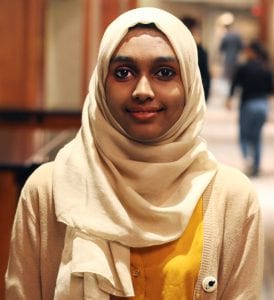 While I am based in India, that is only one of eight countries with which I work, and each of them has unique sets of circumstances to consider. They have different key social issues in their regions and their freedom is limited in a variety of ways. This month, I even worked on an event in Afghanistan where we could not reveal the location of the event until the last minute to ensure attendees would be safe.
Students For Liberty has become the first pro-liberty organization to raise awareness for LGBTQ+ rights in Bhutan. We are also raising awareness of issues around election transparency in Sri Lanka, teaching people about individual freedom in the Maldives, and even working against the caste system here in India.
I recently started working on the Middle East region, a new challenge that SFL has entrusted me with. In 2021, I look forward to helping bring the torch of liberty to some traditionally hostile areas.
For everyone at Students For Liberty, our priority is of course to advance the cause of freedom. However, for me and my community, it is also crucial to ensure that people understand their basic rights. In some parts of the world, many people have almost forgotten that they deserve equal rights and the chance to prosper, particularly the right to exercise their free will. In those places, Students For Liberty can create an echo of hope.
2020 has been a tough year for many, and SFL has provided a strong sense of community for those who desperately need it. I am thankful to every person who supports our organization and our volunteers.
To read more of our success stories, you can click on the button below.
This piece solely expresses the opinion of the author and not necessarily the organization as a whole. Students For Liberty is committed to facilitating a broad dialogue for liberty, representing a variety of opinions.